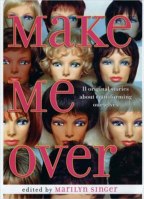 Edited by Marilyn Singer


Book Description

Do we need cosmetic surgery, dental implants, and a new wardrobe to improve our lives? Or can transformation happen in other ways? What kind of a makeover has the power to change a person, inside and out? These stories, specially written for this collection, delve into our culture's fascination with beauty and present different views about all kinds of makeovers. Sometimes funny, sometimes serious, and always thoughtprovoking, this anthology will open eyes and minds. Authors include Joseph Bruchac, Marina Budhos, Evelyn Coleman, Peni R. Griffin, Margaret Peterson Haddix, Norma Howe, Jess Mowry, René Saldaña, Jr., Marilyn Singer, Joyce Sweeney, and Terry Trueman.
---
Reviews
Kirkus review:

"Pointer Review"
It isn't often that a book of short stories doesn't hold a clunker or two. Singer has avoided that pitfall with this superb collection. Every story is a winner. The combined talents of some of the finest YA writers, such as Margaret Peterson Haddix and Joyce Sweeney, spin 11 stories with a common theme: a makeover of some kind wherin the heros find their own unique selves. From an avant-garde French club student to boys in the hood, and even including a lovesick owl, the entries dip into native American storytelling as well as common high-school adolescent angst, ending with an affecting story of immigration. they have humor, drama, insight and heart-touching warmth, all delivering the moral for which every teen yearns: Yes, you can change; you can become better. A real joy from start to finish.

Read more...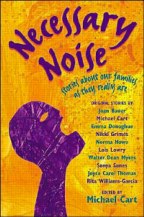 Edited by Michael Cart


Book Description

Once upon a time that was not so very long ago, a family was described as a man, a woman, and their offspring. That was what families were. These ten stories talk about families the way they really are.

Siblings coping with their younger brother's overdose. A girl terrified of her older sister's dual personality. A boy trying to adjust to his life with two mothers. A father visiting his son on death row. These are stories of today's families -- fractured, blended, at risk, non-traditional, and some that are even still nuclear.

Noted anthologist Michael Cart asked celebrated young adult authors the question "What does 'family' mean today?" The ten stories in this anthology provide some illuminating -- and sometimes surprising -- answers. Here family is defined by the connections between all kinds of people -- and the necessary noise they make.
---
Reviews
Booklist
Gr. 9-12. Some of YA fiction's best voices are collected in this anthology of 11 stories about what it means, these days, to be in a family. The definition of that experience is complicated: in Walter Dean Myers' "Visitor," it encompasses a death-row meeting between father and son. In compiler Cart's "Sailing Away," it means two boys' friendship and romantic love for one another. Teens will relate to these varying visions and see themselves in the protagonists, even though in two of the best stories the central characters aren't even high-school students. Lois Lowry's hilarious and charming "Snowbound" stars a college freshman who has brought home her ne'er-do-well "minimalist" boyfriend (who, as part of his minimalism, does not wear underwear). Norma Howe's story features two college-age siblings (one of them married). But teens won't care, because Howe gets to the very heart of sibling rivalry and the difficulties of expressing (and, for that matter, feeling) familial love. Cart's informative introduction about the evolving family sets the tone for this first-rate collection, on the leading edge of YA fiction.
John Green Copyright © American Library Association. All rights reserved

Read More...